Hey my Sweet Lifers! Of all the herbs I grow parsley is the one that I can never get enough of. I grow it everywhere and as soon as the root forms I move it to the main garden so it can flower and spread it's seeds for even more!
Parsely is a member of the Apiaceae family, along with celery and carrots. It's uses in both culinary and medicinal are vast as it has a distinct flavor, however neutral enough to be likable my almost everyone.
Native to the Mediterranean, parsley dates back to more than 2,000 years! In Greece, they believed it to have been created from the blood of Archemorus. It was never used for food, but rather in their religious ceremonies, specifically funeral wreaths. The Romans decorated their homes with it. Old folklore has recorded many sordid tales surrounding this versatile and easy to grow herb. One saying is "Where the Mistress is the master, the parsley grows faster."
There are two types of parsley, curly and flat leaf with the later being preferred amongst chefs. In  French cooking, it is one of the four fines herbes, coupled with chives, chervil and tarragon. Rich in VitaminsA and C, it also contains iron and multiple B-complex vitamins. Additionally, it maintains a high level of K1, known to decrease coronary artery calcification and folate, which decreases the levels of homocysteine; a contributing factor when levels are high in strokes and heart attack risks. Chewing parsley can reduce bad breath naturally as well!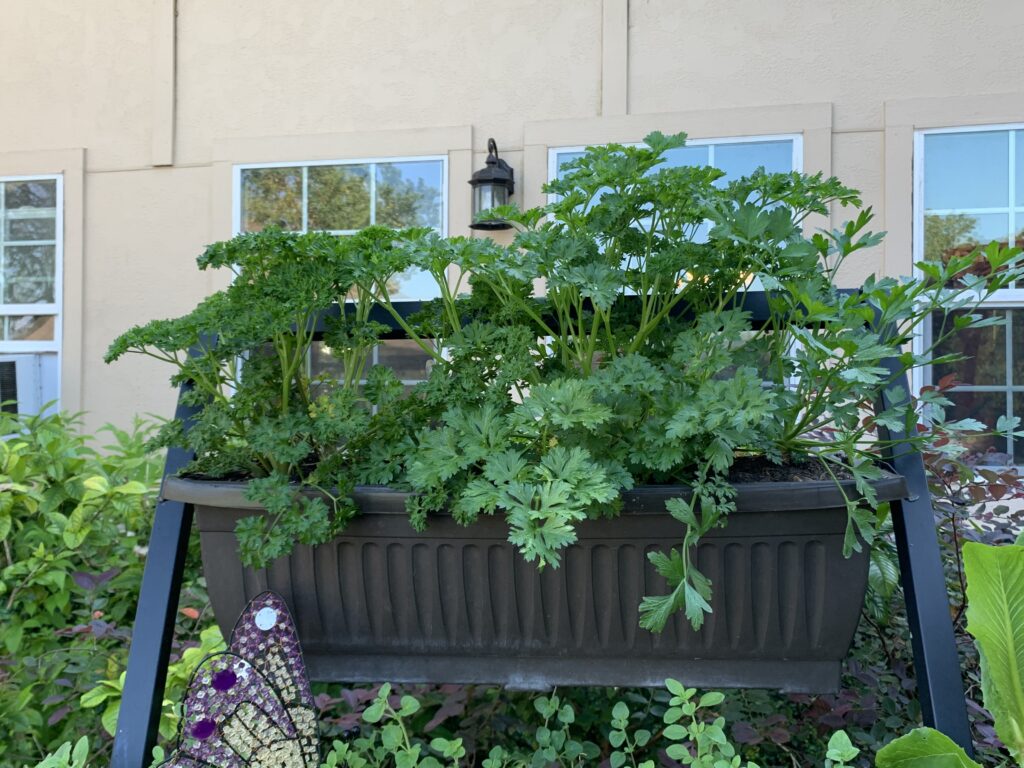 At my house I love to incorporate handfuls of the chopped leaves of both varieties into our salads. I use it often sprinkled on rice and risottos as a "finishing" herb, and as that last dollop of butter melts into it the savory crispness comes through on fish, chicken and pork. I most often use it though to make dipping sauces as those are some of our favorite ways to enjoy pita chips, and toasted French bread. One such dip is my "Verde." When prepping the peppers I always remove the seeds and pulp so this is never too hot!
Parsley is very easy to grow and enjoys a perennial life. The first year you enjoy the leaves, the second, enjoy until it forms its root base; soon after it will flower and scatter seeds and the mother plant dies. Texas is one of the top producers of parsley in the United States and defiantly should be added to your home herbal gardening!
Alisa's Verde Sauce
2 large Jalapeño peppers (no seeds & no pulp)
1 Serrano pepper (no seeds & no pulp)
1 cup of fresh flat leaf parsley leaves
2 cups of fresh cilantro leaves
1/4 cup of EVO
6 Tablespoons of sour cream
Pinch or Himalayan pink salt
Pinch of freshly ground pepper
Pinch of garlic powder
Pinch of onion powder
Process the herbs and pepper until finely chopped
Stir into a bowl the rest of ingredients, place in frog for an hour before serving
Makes approx. 11/2 cups / serve with warm tortillas, as a dip for a charcuterie board or as a finishing sauce over fish, chicken or pork.
Enjoy ya'll and Keep on Growing!