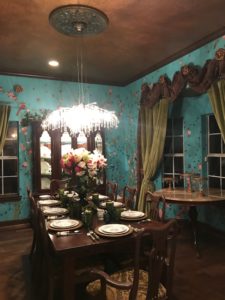 I think one of the very best compliments that I have ever received was from my clients and my spouse regarding my home and it's design. Firstly, when he was asked about our space and how if he could do it differently he stated without hesitation that "our home reflects who we are and screams of my wife and her talents. When she passes, if she were to before I do; I would not want to change a thing so that even the pillows on our couches would remind me of her." My clients walk into the house and say things like "Oh my God this space is just YOU!" or "I wish my house looked like who we are and not so blah like everyone else's!" So you can imagine how nerve wracking dealing with that pesky hurricane Harvey has been. Things have had to be renovated and changed and I have found my old love again for interiors and design.
Back in 1991 I was an interior design student at Savannah College of Art and Design and had we not invested in the real estate market in Houston I would have finished that degree and perhaps never even moved to Texas. I am glad that we did and grateful for the success that my photography business has had over the past twenty years but all along the way clients have been nudging me to do interior design and as they say you can't take the art out of an artist. I have worked carefully with many contractors and some of those contractors have even tried to hire me! LOL
That brings me to the most wonderful announcement that I will be writing this new column on interiors monthly, just as I have written Living the Sweet Life since 2006. I am excited about my journey as an artist and look forward to sharing with you and showing you how to create the most beautiful spaces in your home that are unforgettably YOU!
One thing that you should know is that I do not believe in a cookie cutter approach to design with my clients. Each home should reflect who they are and no-one else. I am often struck by how similar a home looks to another when a designer is involved. I am also saddened by homes that look like the builder just left! I think that the color palates, curtains and furniture should all reflect that individual and I strive to make sure there is a clear understanding between me and the client as to what look that are going for rather than have me "just do it." I know many of us are still renovating with the aftereffects of Harvey and I am right there with you! I thought I would share with you my before and after reno of my dinning room.
First of all….the tornadoes in Sienna Point rocked my house and water fell and trickled in through the walls from the roof and flashings. Pretty soon my dinning room ceiling fell and then there was water damage on the hardwood floors making the entire room a project. I chose to use a French patterned wall and since the wallpaper people were all too busy I chose faux. Then we repainted the ceiling gold because it grounds the room and nothing is more "french" than a gold ceiling! When it came time to do the curtains, I purchased a few panels from Amazon and then I repurposed the animal print scarfs from the kitchen to bubble over the panels so that there was two patterns in the room. Rooms should always have several patterns as it creates depth and texture. Eventually I will replace the furniture in there but I just haven't found the right pieces and that leads me to another thing…this stuff takes time. It is very easy to go down to the store and buy a bunch of match matchy pieces but in order for your home to reflect you that takes more work. Searching for the perfect cupboard or sideboard is so worth it in the end, after all you are living with this hopefully for a long time if not for the rest of your life!
The chandelier was a brilliant find from Goldenlighting.com and with it's branches and crystals there really could not be a more perfect statement for a room that has been painted full of birds! This dining room has transformed from a disaster zone from Harvey to a perfect space for my family to share meals, and do homework and wrap presents during the holidays! I love the space and would love the opportunity to design a space that is perfect for you too!