Vallone's restaurant located at 947 Gessner @ I-10 is one of Houston's Finest Dinning establishments. "Conceived by Houston restaurant legend Tony Vallone and protégé Scott Sulma (general manager and partner), Vallone's is its namesake's latest entry in Houston's expanding fine dining scene."
Originally from Houston,Tony Vallone has been an icon in our city for over 50 years and his restaurants have catered to some of our city's most well to do. Tony started out at age 22 with an Italian restaurant on Sage and with his Italian food and creativity the right people took notice. He ventured towards fine dining and the concept that really the sky was the limit in terms of customer service and what would be available on his menu. Vallone's menu can be labeled as Modern Americana with nuances of Europe. In the sauces, in particular there is a definite understanding of depth and layers that is truly at the heart of both French and Italian dishes.
"Another facet of Vallone's genius was to make his restaurant fun. Sure, he required male guests to wear tie and jacket, and there was a rack of spares at the front desk for emergencies. But Vallone would cater to favored guests in all sorts of charmingly goofy ways. If they wanted French toast for a late supper, they got it. When developer Harold Farb requested chicken-fried steak, no problem. Did oilman John Mecom crave chili? Vallone made it for him, and the proletarian dish eventually achieved cult status on Fridays." excerpt from Houston Chronicle
My first experience at Vallone's was as a guest with my clients. I remember the cart of beef aging right there before your eyes and thought although certainly different that it was pretty cool. The restaurant boasts not only butchering and aging their own meats, but making their own breads and pastas. Classic American desserts are also made on site. Having clients myself all over the world, I have dined in Paris and New York and Mumbai and Vallone's is on par with my standards of high fine dinning without being too stuffy. As you might guess when you are catering to that level of a clientele everything is thoughtfully appointed…right down to the stitches in each of the chairs. "We wanted to recreate the warm atmosphere of the original Vallone's," says Sulma. "Houstonians have such great memories of its inviting, cozy ambiance. And that's what went for with our modern interpretation of a Houston classic. From the way you're greeted at the door, to the warm glow of the fire places, to the classics of the American steak and seafood restaurant, you feel like you're at home at Vallone's."
The afternoon that I was at the restaurant I tasted several amazing dishes. The  creole jumbo crab and shrimp remoulade  with charred texas corn and  grape tomatoes  was delicious.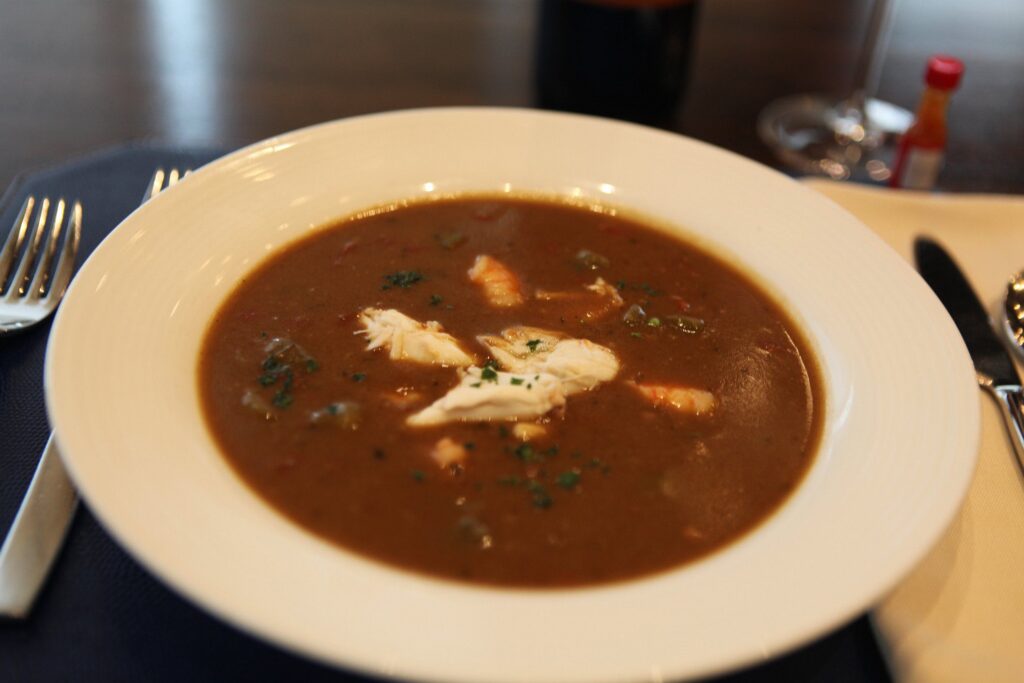 The sauteed jumbo lump crab stands out as a hearty appetizer with a creamy lemon butter sauce perfectly balance against the crab so as to compliment and not be to "fishy."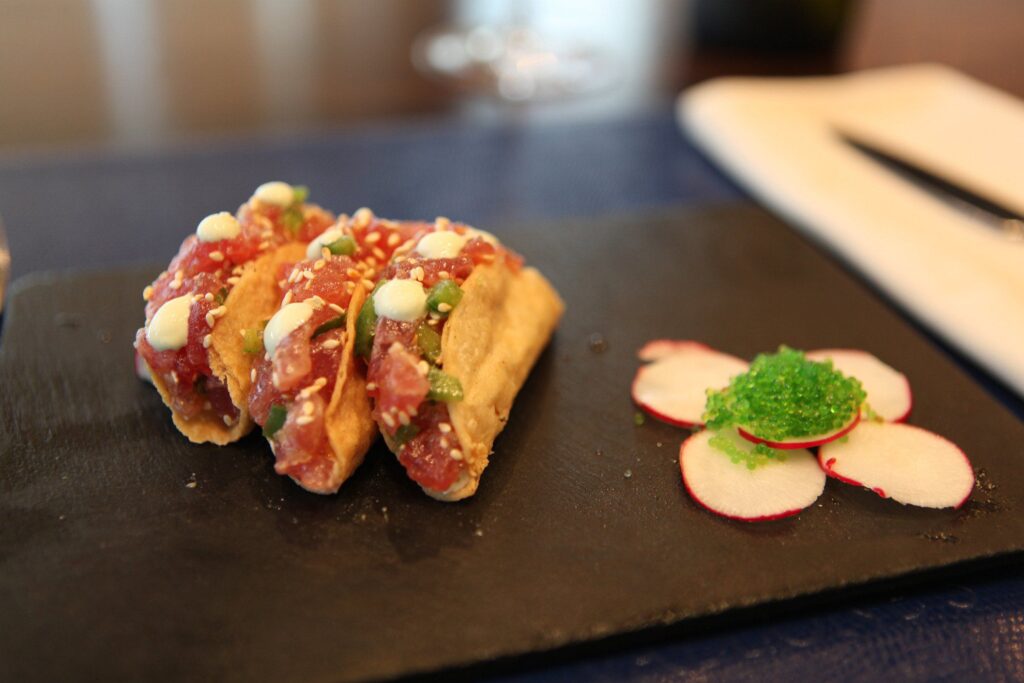 The mini ahi tuna tacos with wasabi cream, and sesame seeds was one of my favorites. The play of doing something like a taco with the tuna is sexier on the plate than what you usually see in a restaurant at this level. The trio of chicken wing lollipops dipped in  bourbon bbq, asian garlic, and  traditional buffalo sauces was also a favorite not only because of how it tasted, but again because of presentation.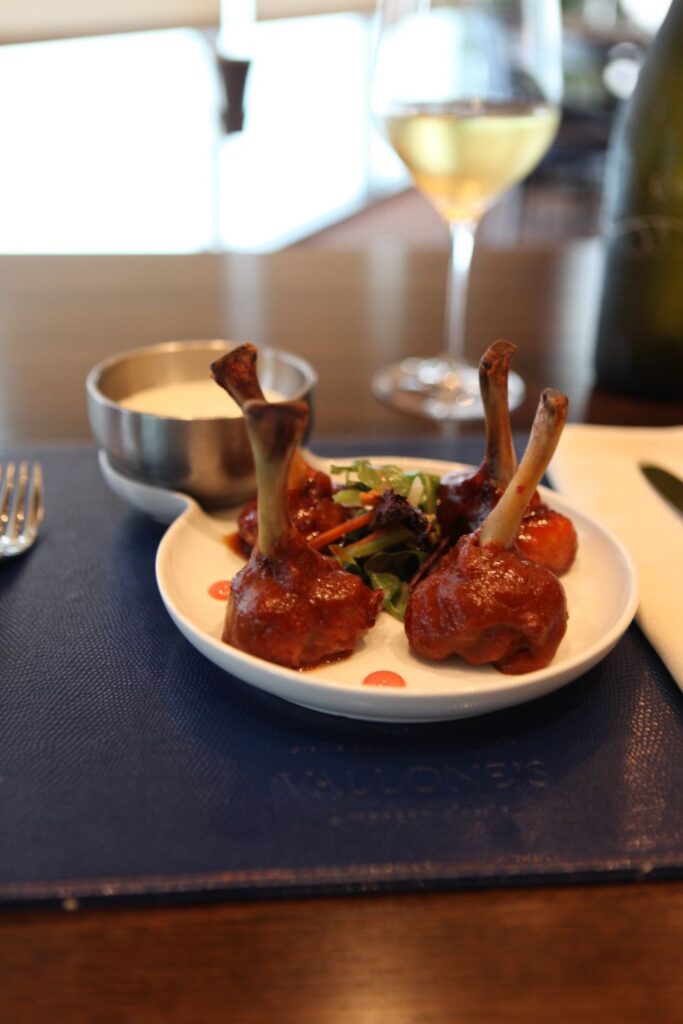 The fettuccine Vallone sausage, jumbo lump crab, with Tito's vodka sauce was a heavy dish. It boasted balanced flavors and was inviting. The Colorado lamb chop with chickpea puree and rosemary jus. This is a delicate dish with the perfect balance of herb to lamb ratios. Perhaps the very best was "The tex" cheese enchiladas, 6 oz. center cut filet. "The restaurant's signature dish — the 55-Day Aged Bone-In Ribeye — has already been called 'one of the best steaks in Houston,' a city renowned for its many steakhouses and its large appetites. Its classic all-American sides — from 'Four Day' Onion Soup to the Wedge and Caesar Salads, from the 'Cream less' Creamed Spinach to the Baked Alaska and Banana Pudding — set a new standard for quality and purity of ingredients.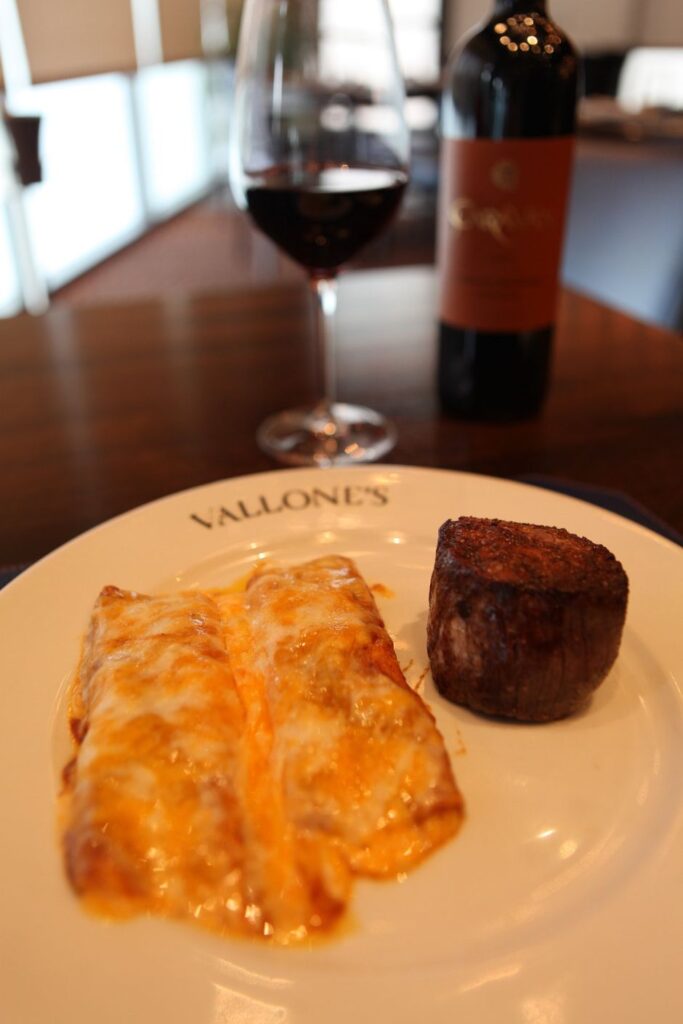 I had ordered that same filet with clients and most always if I am out that's what I do order. I was impressed with the age and flavor of his filet both with clients and when I did the tasting for my column. I am most impressed with the consistency of quality and creativity. The enchiladas were perfection and  a lovely addition to the steak. I love Vallone's for lots of reasons, one it has exactly what I am looking for in a high end dinning experience with every attention to detail. Ya'll know who my clients are and it's on my "go to" list when with  clients inside the loop! 
Bon Apetit!