Alisa Murray's The Artist's Palate featuring Goode Seafood Co.
Being from North Carolina, as you know, there's a staple in my diet called Pecan pie (pronounced Pee-Can as any good southerner would know) and Goode Seafood Co. located at 10211 Katy Freeway has the very best in this town. In fact, all 7 Goode Co. Restaurants carry that slice of heaven as they say in the south. My waistline would also like to thank them for knowing exactly how to batter up seafood and make a Campechanna de Mariscos as well! Jim Goode has always said "simple, really good Texas flavored food is what his restaurants are about." A Texas native, he learned from his momma's kitchen and got into the industry in 1977. "You'll find signature dishes like campechanas, seafood gumbo and whole stuffed flounder on our menu, you won't find anything swimming in heavy sauces. And if it isn't in season, you certainly won't find it in our kitchen."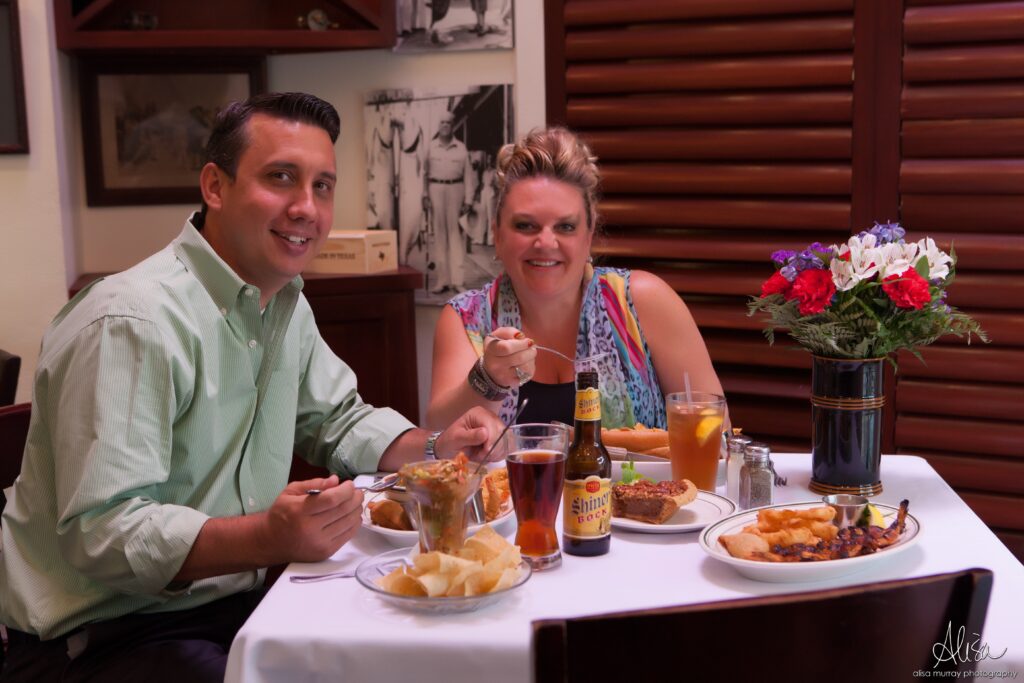 One of the things that resonates with me as an artist and writer is supporting local small businesses and that is why I am always searching for and supporting small and local in all that I do. The fact that Goode Seafood Co. feels the same way and does so much to support local makes me feel good about supporting them. We were talking further about what that really means for our community and I was impressed with what Greg Cheshir said. "Small restaurants are the heart and soul of Houston, playing such a huge role in our culture. So many small restaurants thrive and make this city the great food city it is today. There have been so many relationships started, business deals made, and family dinners at some of our Hometown restaurants that those memories and tall tales are passed on from generation to generation, which in turn helps these businesses succeed and often growing into smaller local chains. These budding businesses in turn provide jobs in so many areas, not just in the restaurant but other jobs that are tied to the restaurant business."
When I asked them about where things come from here's what they said. "We buy local pecans for our famous pecan pies, use local honey in recipes, buy farm-raised Texas Redfish, local oysters from Galveston Bay, Trinity Bay and Matagorda, and we've bought Texas Gulf shrimp from one vendor since we started our first seafood restaurant in 1986!"
The Mesquite Grilled TEXAS Shrimp is a favorite for most with homemade smoked bacon wrapped around large Texas shrimp where they are then grilled with their secret honey-garlic-ginger glaze. No cheese or Jalapenos needed! I asked about the creative behind their dishes and Greg Cheshir said "Our food is not contrived or conceptual, but part of our family heritage. We strive daily to produce authentic Texas food, one plate at a time!"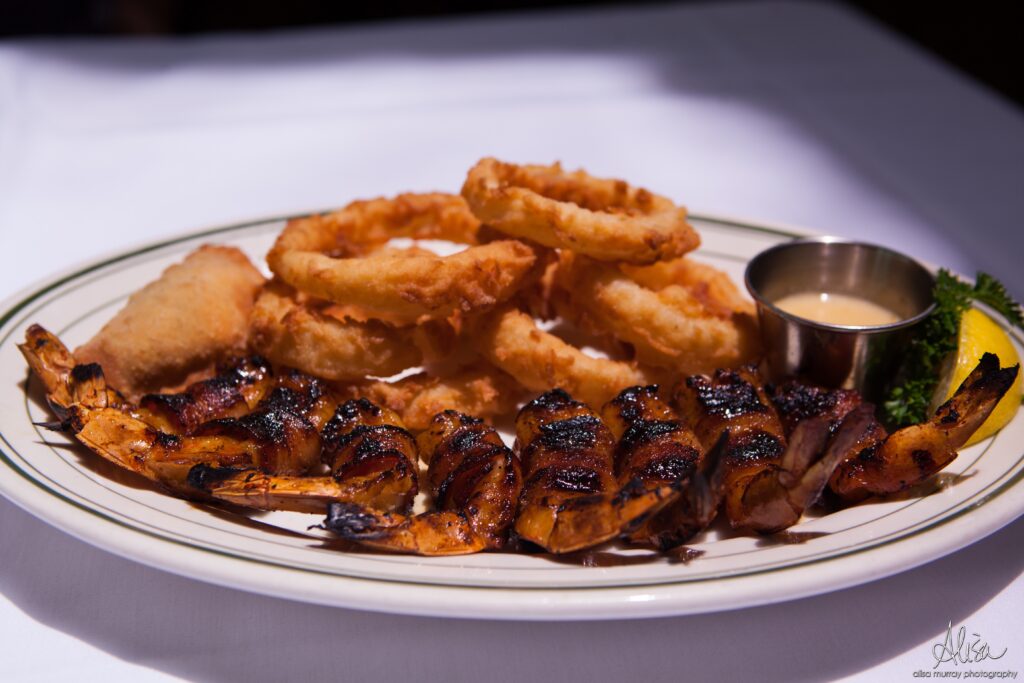 The Fried Shrimp Po Boy is a generous helping of Texas Gulf shrimp lightly battered in cornmeal atop a homemade French bread with garlic butter, mayo,lettuce and pica de gallo. The Mesquite Texas Redfish starts with a farm raised Palacio Texas Redfish and is accompanied with fried Texas gulf coast jumbo shrimp and is part of the featured dishes in the now ever popular Houston Restaurant Week.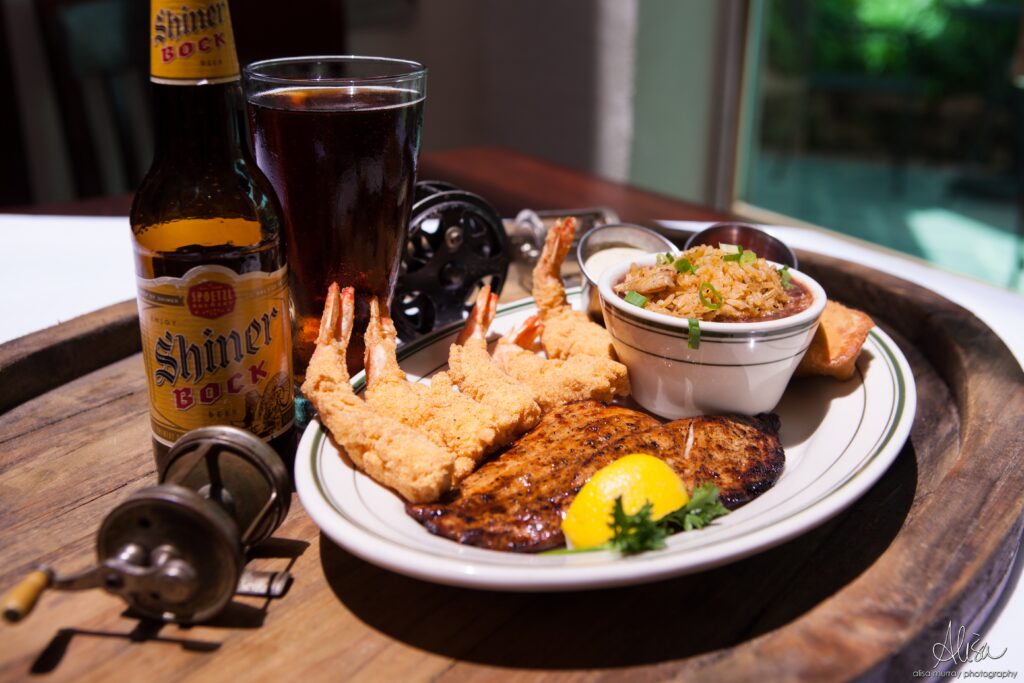 August 1 thru September 7th all over town of course restaurants are featuring specials. Goode Seafood Co. will feature the following:
3 Course meal for $35.00 with 3 choices for dessert
Texas Redfish, Gulf Shrimp, or Texas Redfish & Gulf shrimp combo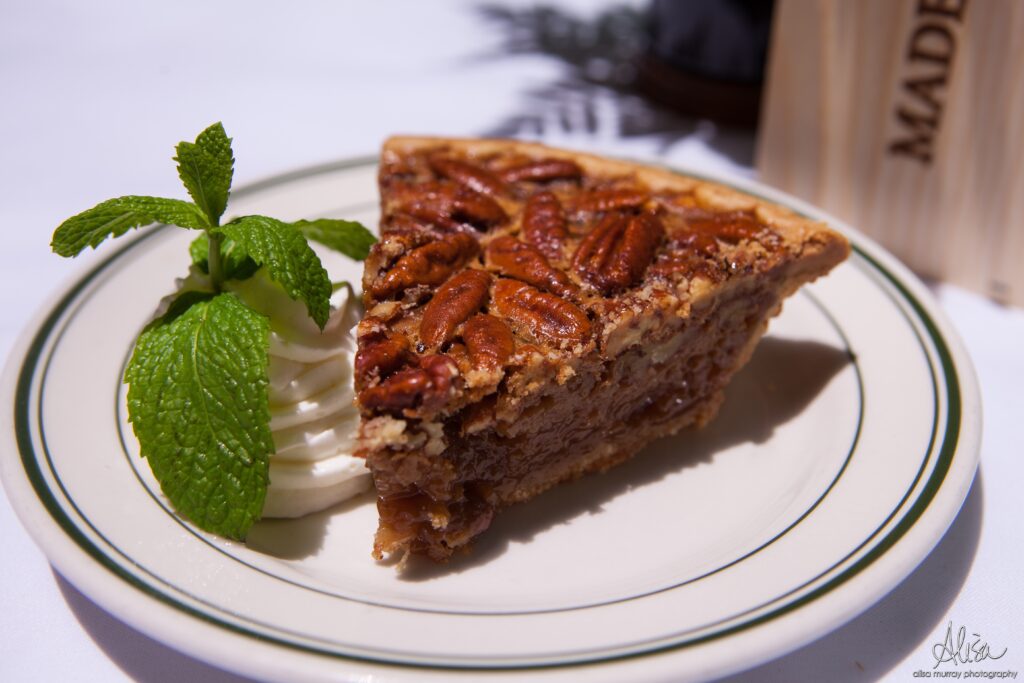 You already know which desert to order…it's that Brazos Bottom Pecan pie ya'll! And I'll leave your taste buds on that sweet note!