If there's ever been a place that from the moment you walk in you feel like you've been there before and there's a sense of "home" then Turquoise Grill located at Sugar Land Town Square Plaza, 16019 City Walk, Sugar Land, TX is the place. I remember several years ago walking in and meeting Jim the owner for the first time. He immediately hugged me and sat with me at one of his tables and after an evening of chatting about life and passions of cooking he invited me to stay in his home in Turkey. Not many people will do that.
I asked Jim recently about his cooking and the concepts behind it." I believe in fresh cooking with fresh herbs because you can tell the difference. The taste test for me is I have to eat it too… If I can not eat it then I'll not serve it to you. Turquoise is a Mediterranean blending of cultures from Turkey, Morocco, Lebanese, Greek, and Italian influences. These spices and fresh herbs make the difference. We do not put sauces all over the meats… its a cleaner fresher tasting experience."
This summer there's as you might expect, a special menu that marries the freshest of seasonal fruits and vegetables with the recipes of his mother's kitchen. The Mediterranean Shrimp Ceviche is a beautiful dish and one that since seeing Jim I have longed for more. The Shrimp is boiled and then iced in a bath while Jim prepares the rest of the ingredients. Cilantro and onions combined with fresh mango, pineapple, oranges and several melon snare then combined with tomatoes and cucumbers. These are all tossed in a sweet chile sauce that's Jim's "secret sauce" and finished with adding the shrimp and drizzles of a pomegranate molasses. It is as he puts it "a gorgeous salad" and it truly is indeed. He recommends that you add a glass of Turkish wine such as a Cankaya which is fruity and refreshing.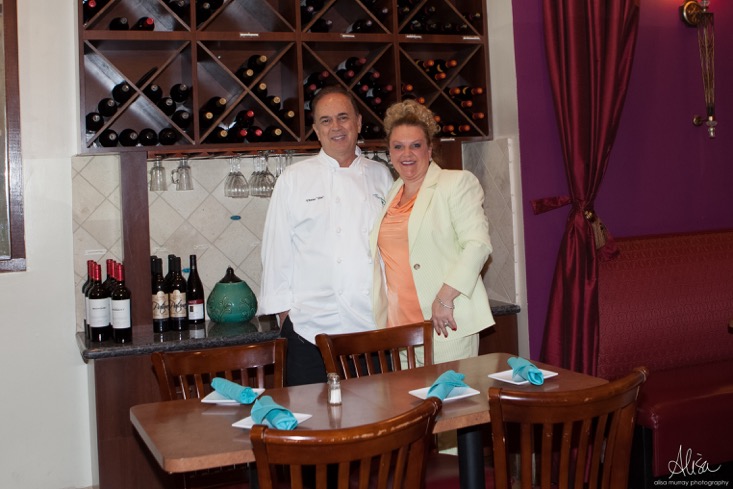 The Signature Meat Pie from Southern Turkey is also a popular dish with Sugar Land patrons as are so many ancient dishes of kebabs, lambs, gyros and have origins dating back to the Ottoman Empire. The meat pie is prepared by first making the shepherd's bread which Jim makes from scratch daily. It is then rolled and topped with a meat pie blend of ground beef, tomatoes, peppers,cayenne peppers and paprika. It bakes to perfection in his brick oven and couples well with cucumbers and tomatoes and yogurt sauce. Then there are of course his famous pizza's made with fresh tomatoes soaked in basil and feta cheese that he makes with the children.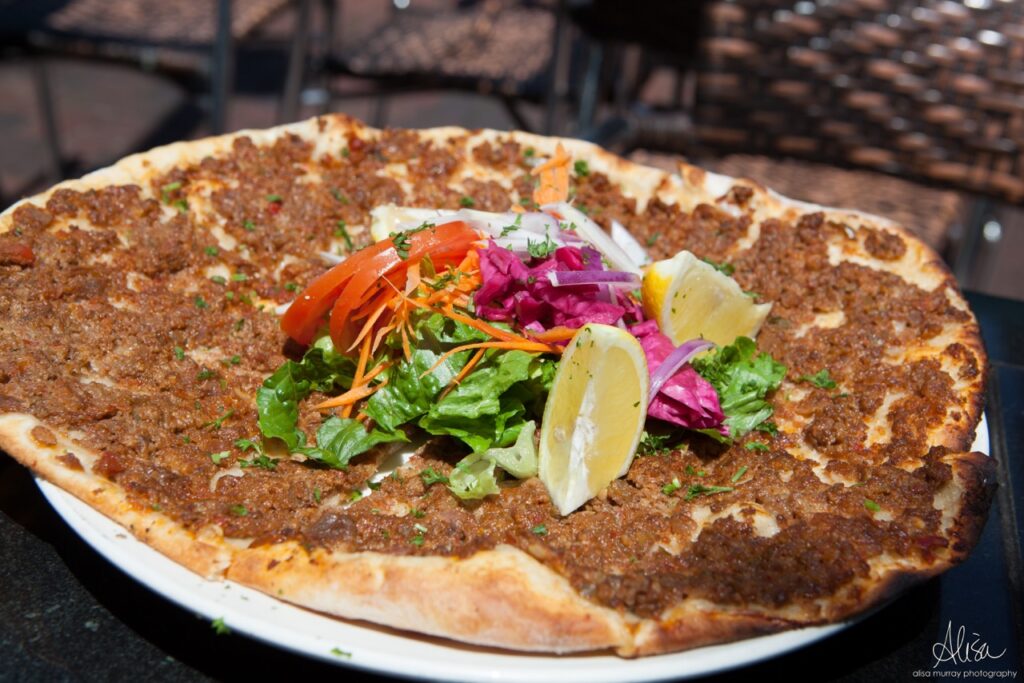 I asked Jim about how he came to be a chef and not surprisingly he became interested in food as a child. "When I was 8 my uncle had a restaurant in Turkey. I helped him a little and loved it. When I grew up I was training to be an engineer and found everyone near me in college wanting to taste my cooking. After graduate school I started working at Aramark and learned much about culinary. I found myself not working with people but rather writing reports so I decided to leave and complete my dream of a restaurant. In 2003 I started the first restaurant. We got accolades pretty early on and then David Wallace asked me to open a second place here in Sugarland in 2011. 
Jim told me "Success is not measured by dollars and sense… it's based on giving and taking and helping and sharing. I try to bring each child and their parents into my kitchen and show them there's art and science in the cooking. I ask them questions and children think and reason and watch the food come out of my brick oven and are amazed  at this. He becomes a family friend and another place that children love to cook and learn about food. It's not surprising that before long the children just want to go see him…sounds like an "Auntie A" kinda thing.
One thing is for sure, he loves cooking and sharing and as he said "returning patrons means you've done something right" and as a small business  owner I couldn't agree more! 

Jim can be reached at (281) 937-7447         www.tghouston.com
Sunday to Thursday 11:00 AM to 10:00 PM / Friday & Saturday 11:00 AM to 02:00 AM / Open all public holidays.