Well folks I am a southern gal from North Carolina and one thing I know is my fried chicken. Brandani's located at 3340 FM 1092 Ste 160 not only has the best in Texas but in North Carolina as well. There's a special sauce Ron co-owner and Executive Chef makes called jalapeno gravy and I lovingly refer to it as 'crack' because it's past good….it's amazing! Initially that is what drew me into visit this power couple's new restaurant and all the rest has been every bit delish.
Ron and Claire Brandani remind me a lot of Brian and I in that the business is a family affair. They each play a pivotal role in creating both an experience of fine dining and amazing dishes that are beautifully plated and seasoned to perfection. Ron, a Galveston native cooked with Danish Chef Tommy Broberg and he is in part credited with inspiring him to become the amazing chef is is today. Claire is a third generation Houstonian. The menu is chocked full of seasonal fresh vegetables and the couple uses local farmers and supports our community by giving back.
Ron likes cooking things he knows and that have proven to please his friends and family. I asked him about his style and he told me " I like big flavors. I don't think you should have to season your food when you go out to eat. My Dad taught me how to make homemade red sauce when I was five, so I feel most of my food has an Italian heart." I had the Breakfast for Dinner which is smoked deviled eggs, potato latke and his famous candied bacon. That bacon by the way is Mrs. Patti's favorite!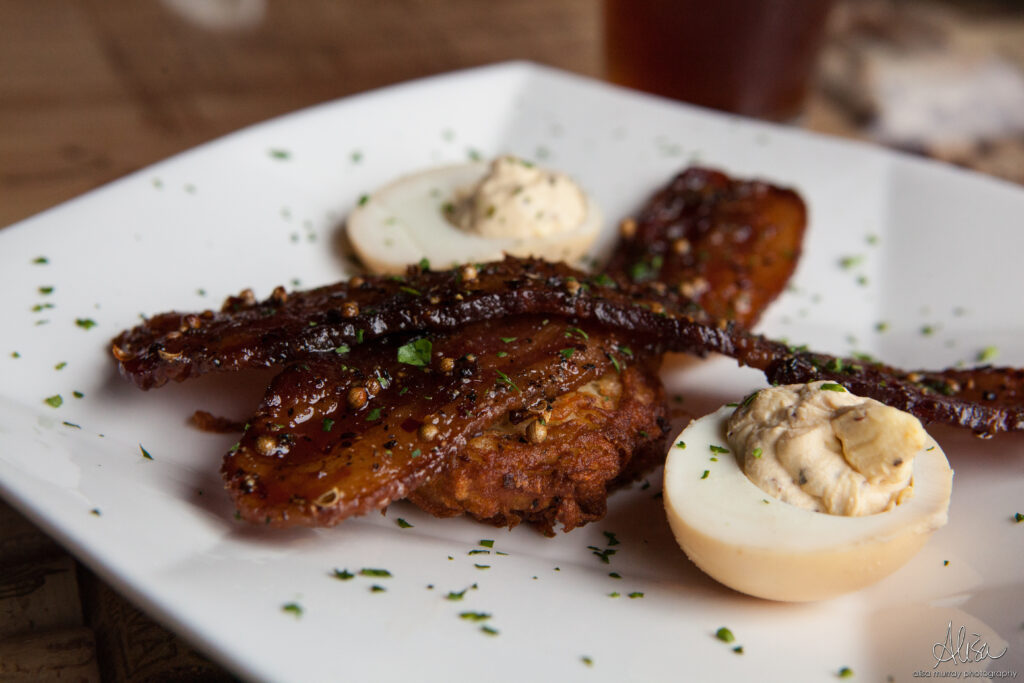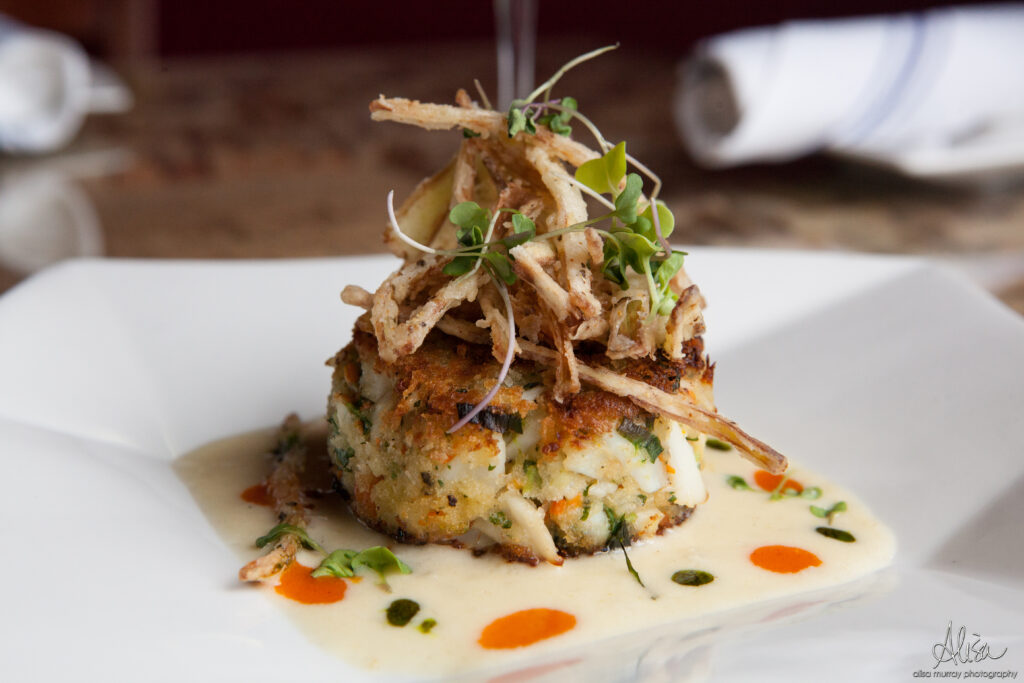 The crab cake is second runner up for me as the best of his menu. I have many off the coast of South Carolina and Georgia and none can compare to his! He makes it with panko breadcrumbs, jumbo lump crabmeat, lemon beurre blanc and crispy leeks. There are several salads on the menu and recently they opened up for lunch too making this a healthy option. His Brandani's Salad consists of mixed greens, apples, dried cranberries, pine nuts, tear drop tomatoes, chicken, croutons and avocado ranch dressing. As for main entree's I have had many of his pasta dishes not featured here and they are all amazing.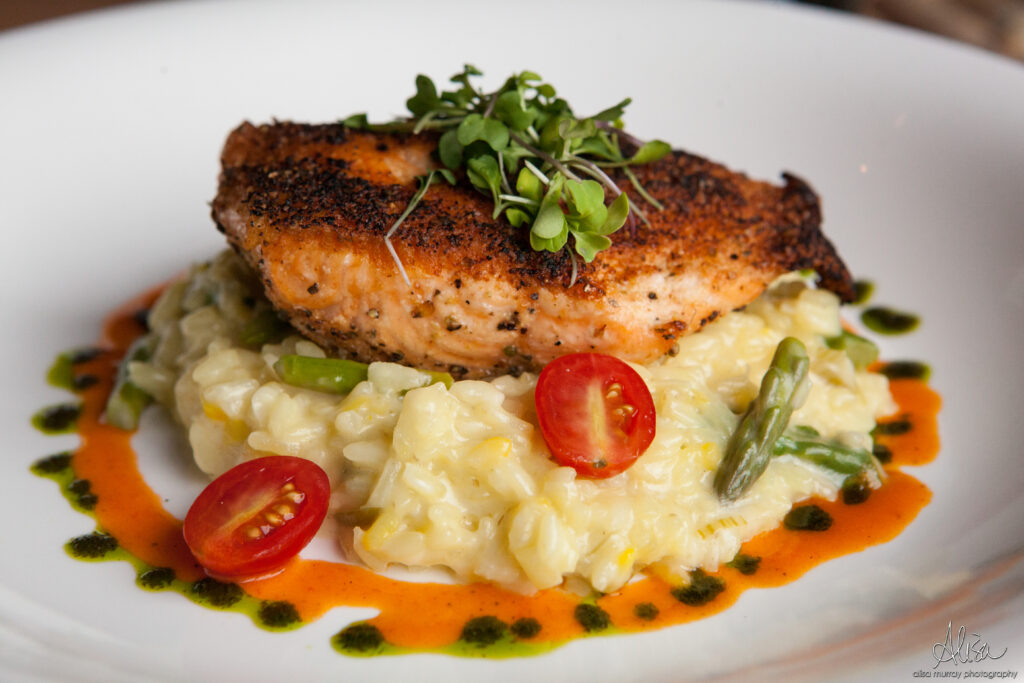 The Salmon & Risotto is delicious as he uses infused saffron and leek risotto, asparagus, tear drop tomatoes, drizzled with a roasted tomato vinaigrette. The Snapper is equally delightful, wild caught gulf snapper finished with an orange chili sauce with kumquats served with sautéed baby kale and gingered sweet potatoes. Then there's that Chicken served with mashed potatoes and that 'crack' jalapeno gravy!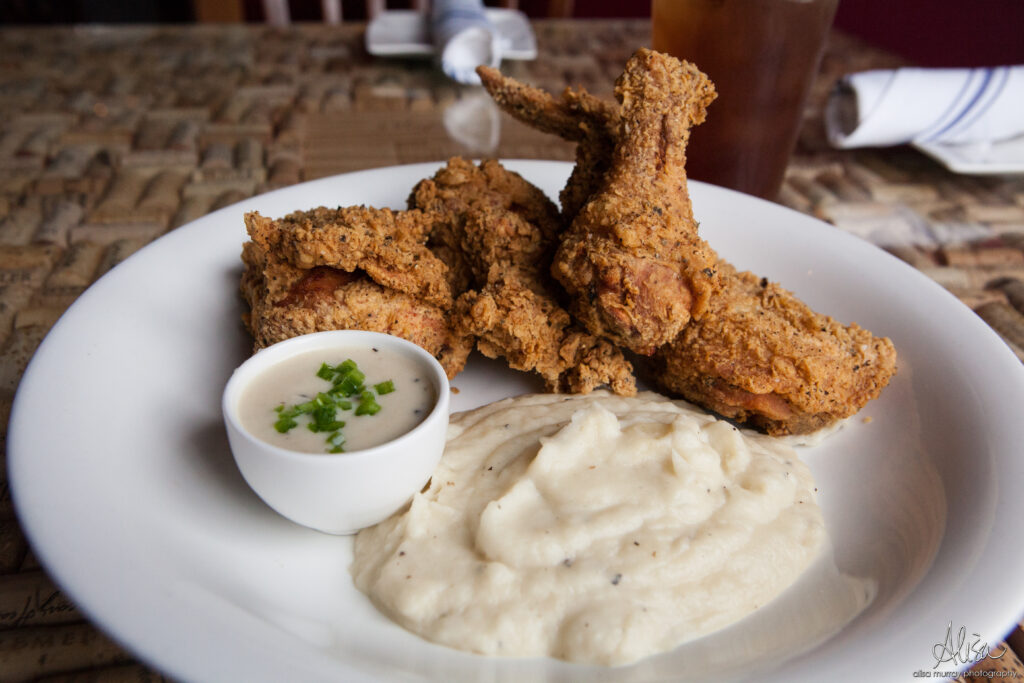 Ron's favorite is his 16 oz. Porterhouse Pork Chop that he cold smokes and then pan sears porcini crusted pork chop finished with a gorgonzola dolce and porcini cream sauce served with mashed potatoes and roasted vegetables.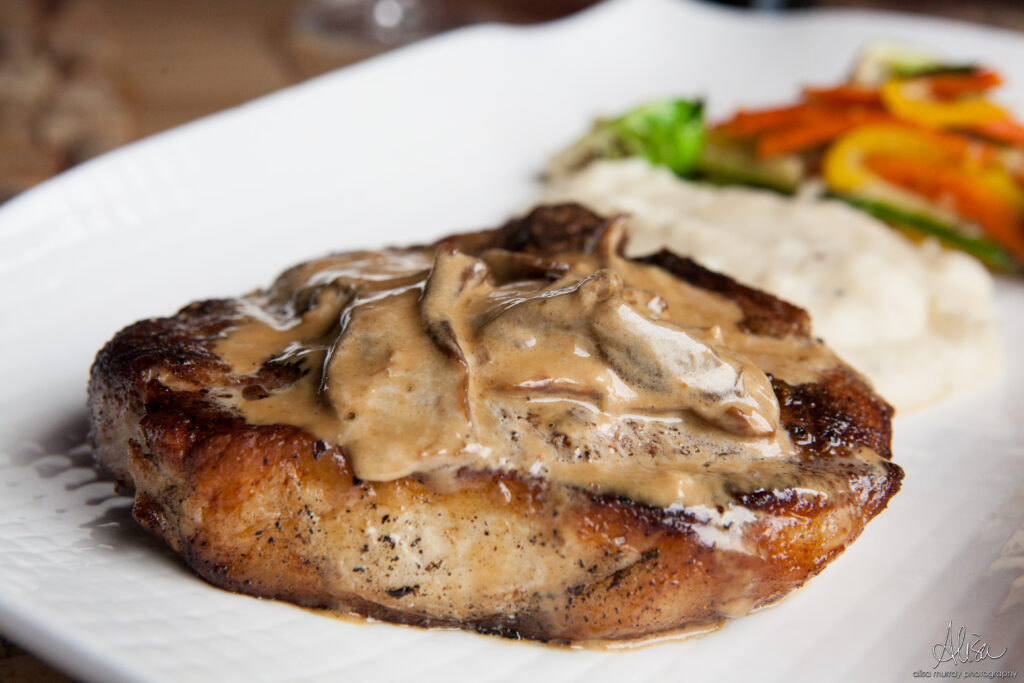 TheS'mores Silk Pie made with graham cracker crust, chocolate ganache, chocolate mousse & toasted marshmallows is James Edward's favorite and the Pumpkin Spice Cake is a family recipe of Claire's. The couple offers a full wine bar and have regular tastings and pairings so you'll want to check the events schedule out while there dinning.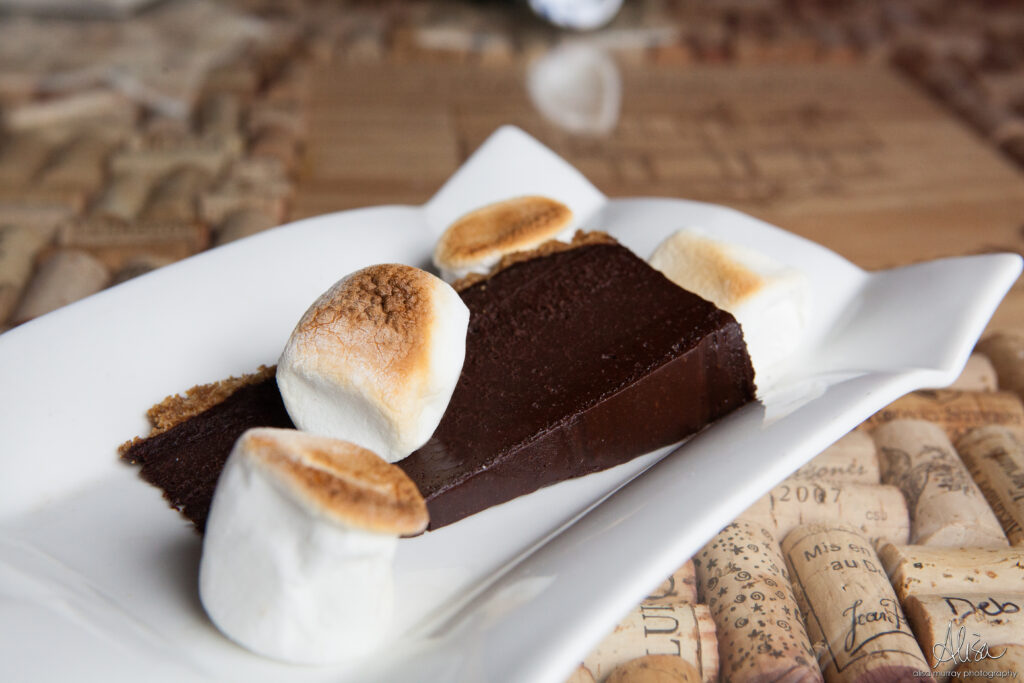 The atmosphere at Brandani's is both family friendly and well appointed for fine dining. The walls are graced with oil paintings Ron's mother did while alive. One painting in particular she did long before Ron and Claire made the decision to become restauranteurs. It's a scene in which she painted Brandani's Restaurant. Sometimes our parents catch the vision for us long before it becomes a reality. Again something I have in common with this lovely couple! Go eat there and ask for some jalapeno gravy to go!